For me, buying makeup is almost like getting into a relationship—-it's a commitment! Most of the time, you splash out more than 1000 bucks on an eyeshadow palette and just use 2-3 colors from it. And then the whole regret thing comes into the show. Therefore, I always suggest going for a cheaper eyeshadow palette.
Let's check on the following list includes eyeshadows from vivid colors to nude ones which are good for every occasion. The listicle includes the best eyeshadow under only 500/- which are worth investing this season.
Wet n Wild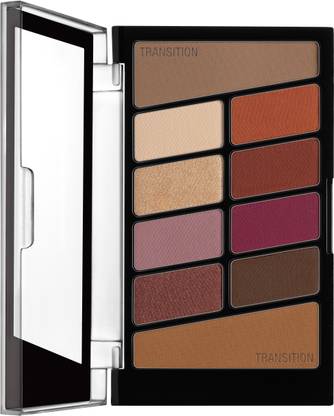 Also, you can find all the details like the name of the colors, ingredients used to make the product and instructions below the palette. Although they have nice packaging they don't have any mirror and applicator.
For beginners, it is best not to invest in very expensive eyeshadows.
Price- 499/-
Rating- 4/5
Swiss Beauty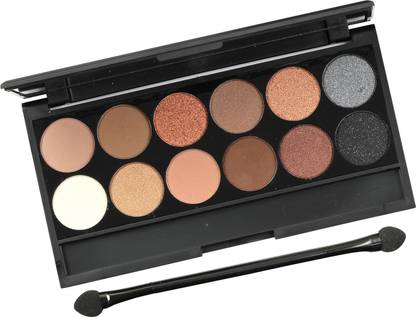 The best part about this eye shadow palette is that it has both matte and shimmery shades included. Swiss Beauty palette is easy to work with and has an applicator along with the packaging. This palette is ideal for an everyday look which can take you from a morning look to evening look in no time. Another plus point of this cheap eyeshadow palette is it has good staying power. Although the fallout of this palette is a little unsatisfying the colors have a nice creamy texture.
However, I wish that they took care of attaching a mirror with the box.
Price- 299/-
Rating- 3.5/5
L.A. Colours Day To Night Eyeshadow Palette

Another budget-friendly eyeshadow palette includes L.A. Colours Day to Night Eyeshadow. This eyeshadow palette is highly pigmented and you are gonna love the colors of this palette. Although the palette comes in other shades as well I personally love this one as it gives me all the colors which I can use for both day and evening look. Also, it comes with an applicator even this one doesn't include a mirror in the packaging.
The only thing that I am not very happy about this palette is that some of the colors are a little crumbly which makes it a little difficult to use. You will notice that the matte shades in this palette are better than the shimmer ones.
Price- 495/-
Rating- 3.8/5
Blue Heaven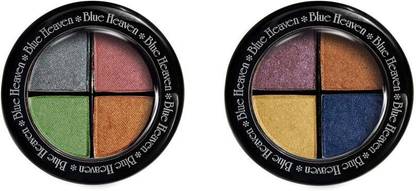 The packaging of this palette is a little flimsy and it doesn't come with a brush or mirror. While picking up the color you will notice a kickback and a lot of powder is flying in the air which gets a little annoying. But what impressed me in this eyeshadow is its nice pigment which makes it super easy to pull off textures like the crease. Other than this, while trying this eyeshadow I noticed there is no fallout on my face which is another best thing about this palette.
So, you can buy this eyeshadow mostly to create a unique look that requires highly pigmented eyeshadows.
Price- 250/-
Rating- 3/5
Faces Canada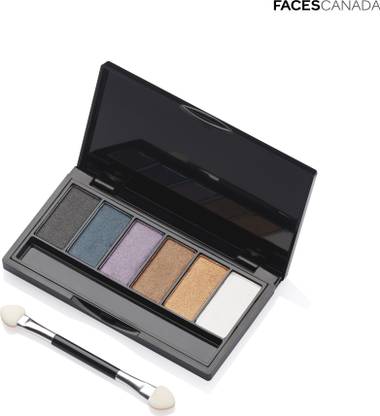 While using this eyeshadow you don't need to dig your brush into the colors to get the pigment. It has a nice and balanced pigment which you are going to love. The highlighter of this palette is really good and you don't have to spend extra bucks to buy a separate highlighter. The shades blend has a nice blend, therefore, you can try different looks with this Faces Canada palette. Besides, this eyeshadow has a little fallout which is a little disappointing.
Price- 499/-
Rating- 4.6/5
Miss Claire Eyeshadow Palette
This eyeshadow is quite smooth in texture and has nice packaging. However, Miss Claire is a well-known brand but it has not mentioned any ingredients so you won't know what is going onto your eyes. Even this eyeshadow falls out a lot so you need to keep dusting off the excess. You can use this for straight 8 hours without any patchiness or fading. Even though it shows quite dark on the palette it is not intensely pigmented rather it has soft shades. Therefore, you have to build up the color using it for 2-3 times.
Price- 495/-/-
Rating- 4.6/5
Marsplay user is giving us major inspiration on how to use eyeshadow like a pro.
TIP:
The tip to use less expensive or cheaper eyeshadow is to dust off the excess because they are going to show up on your face later. Some eye shadow is quite crumbly so they can fall upon your face while applying or even later.
Whenever you are buying a new eyeshadow palette make sure you are choosing the one which includes colors that you usually use.
We hope you loved this article! Let us know on which topic you will love to read next 🙂
Also read, The Guide to Everyday Makeup Look for Beginners
5 Minute Makeup Hacks for Girls on Vacation
Have you followed us on Instagram? Also, if you want to join our largest community of fashion bloggers, click here.
Download the Marsplay App and upload your fashionable images to win exciting cash prizes and more.