Jeans are a staple piece of clothing that dominates everyone's wardrobe. It is that piece of clothing you can spend your whole life in. A perfect pair of jeans define the personality of an individual. Jeans come in different washes and silhouettes, but skinny jeans is the most versatile type of jeans.
They are that piece of clothing in your wardrobe that can go well with all kinds of tops, be it tank tops or formal shirts or basic tees. With oodles of ways to style skinny jeans, we have carefully curated some looks you can create with your skinny jeans.
Add a Pop of Colour to your Outfit
Add life to your plain old skinny jeans by pairing it with a vibrant colored top. Bold and vibrant hues such as fuschia pink, sunshine yellow or lavender will accentuate your outfit and make it look OTT.
Style it With A Cardigan
Style your skinny jeans with a knitted cardigan or a sweater. Say goodbye to chilly winters with this carefully curated fall look. Skinny jeans are great for winters as they completely cover your legs and keep the harsh cold winds at bay.
Apart from that, skinny jeans along with sweaters make you look slim by balancing the chunkiness of the sweater. Complete your look with a pair of Chelsea boots and a woolen scarf.
Back to the Basics
Sometimes minimalism is everything. Pair a plain white or a black t-shirt with your jeans. Add a pair of canvas sneakers and complete the look with a cool bag pack for a casual and simple look.
If you want to enhance your look replace the sneakers with a pair of nude heels and add a cool pair of oversized sunglasses.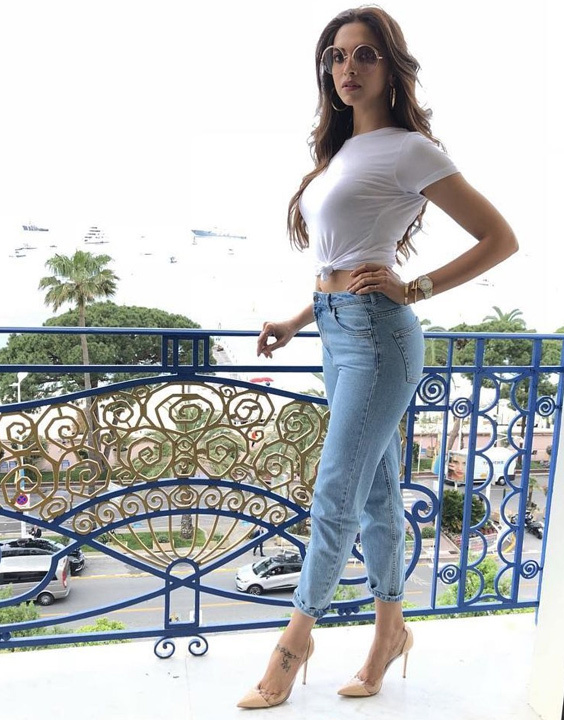 Jeans with a Crop Top
Pair a crop top with your high waisted skinny jeans and flaunt your midriff area. Try prints such as polka dots or gingham print.
Today's playful polka dots fashion statements are fluid, sophisticated and surprisingly versatile for work, brunch and dressing up for dates. Also, polka dots with denim make an effortlessly chic combination. Wear a black and white polka dot wrap top (or a crop top) over a super trendy high rise skinny jeans to create a beautiful girl-next-door vibe. A pretty red ribbon and cat-eye glasses can be a cute addition to this look.
Find out the perfect jeans for your body type here:
All Black So Swag
Put your black ripped skinny jeans to use and create a simple and a grunge look. Pair your black jeans with a black loose t-shirt and boots.
Denim on Denim Look
Nothing will give you enough fashion points than the contemporary connotation of the Canadian tuxedo, that is, Denim on Denim.
Leave an everlasting memory of the 90's fashion statement by pairing your stellar pair of skinny jeans with a bright tube or bandeau top and complete the look by adding a denim jacket and a pair of sneakers.
Accessories can Make or Break the Look
Make your skinny jeans look extra stylish by adding the right accessories. Add that 'oomph' factor to your look by pairing accessories like hats, scarfs, sunglasses or handbags.
A great way to create different looks with the same outfit is by just adding or subtracting the right accessories. Create looks such as Bohemian, formal wear, or rocker punk with the correct accessories.
These were a few ways, you can style your skinny jeans. Take inspiration from them and share your experience in the comments section below.
Also, check out:
8 Fresh Celebrity Jeans Trends For All Denim Lovers