The Pantsuit was earlier considered to be gender-centric and only catered to the men of the society.
Hillary Clinton, who is well known for wearing pantsuits, once referred to her presidential campaign staff as "The Sisterhood of the Traveling Pantsuits."
During the 2016 Presidential election, the pantsuit became a symbolic rallying cry among supporters of Hillary Clinton, many of whom donned pantsuits when they went to the polls to cast their ballots.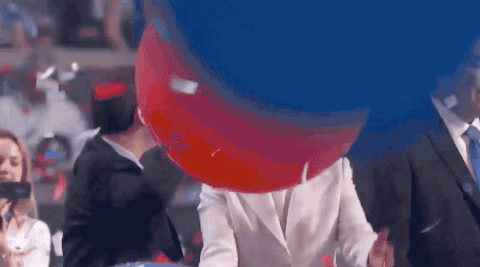 What is Pantsuit?
A  pantsuit is a woman's suit of clothing consisting of pants and a matching or coordinating coat or jacket. Pantsuits are suited to wear for formal or casual occasions.
While others may tell you not to wear a pantsuit, we have witnessed many stylish celebrities across the globe, utterly rocking the pantsuit. Be it Blake Lively or Deepika Padukone, this trend is dominating the sartorial world.
Let's see how Bollywood celebrities ace the pantsuit look like a BOSS!
1. Deepika Padukone in Pantsuit at Cannes 2019
Deepika Padukone was one of the most stylish Indian celebrity on the Cannes Red Carpet, 2019. While all her gowns were a sight for the eyes, her day 2 look portrayed her as an ultimate boss lady.
She donned a pinstriped blue and white pantsuit by Loewe which had a plunging neckline. She paired it with a pair of neon orange pointy heels by Stuart Weitzman and accompanied it with gold drop earrings.
Her rectangular vintage sunglasses took the bold look on another level. She chose subtle makeup with nude lips and shimmery eyes that perfected her look.
Recreate Deepika's Look:
Simplify your look with streamlined accessories like dainty gold jewelry, and strappy heels.
Tip for finding your perfect pantsuit:
Find the right silhouette according to your body shape. Silhouettes refer to the shape of the garment. Choose the one which makes you feel confident and comfortable. However, experiment with colors, prints, fabrics, and silhouettes.
2. Kangana Ranaut looking Fierce
Kangana Ranaut has probably worn the pantsuits the maximum number of times out of all the B-Town celebrities. We can't deny that Kangana is full of surprises when it comes to fashion.
She wore a sexy black pantsuit by Nedret Taciroglu for the Grey Goose party at Cannes 2019. The pantsuit had a gold embellished collar and gave her an edgy look. She completed the look with dewy lips, bold eyes, and sleek hair pulled back. With this look, she lives up to the tag of 'Queen of Fashion.'
There are various other occasions where Kangana has flaunted this outfit and looked fierce.
Recreate Kangana's Look:
Layer your suit with a turtleneck for a fall outfit.
Tip for finding your perfect pantsuit:
It is imperative to check the quality of the suit. Always touch the fabric before buying to check; it does not feel or look cheap. Choose the right material according to the occasion you wish to wear the suit for.
3. Bebo in a Classy & Chic Pantsuit
When talking about pantsuits, we cannot forget our Bollywood diva Kareena Kapoor Khan. Bebo in a pantsuit is giving us major fashion goals. The actress looked stunning in a purple piece with triangular cutouts at the waist showing off her midriff.
She went an extra mile with her look by pairing it with neon green strappy heels. We bet only Bebo can show such confidence to mix two bold colors together.
Pulling her hair back into a sleek bun, she finished off the look with lilac eyes, nude lips, and an all-white manicure.
This is not the first time Bebo is rocking the pantsuit look. We loved her look during the promotions of Veere Di Wedding in a navy blue suit with a bandeau top.
Recreate Bebo's Look:
For a suiting look outside the office, go with a cropped top instead of a blouse.
Tip for finding your perfect pantsuit:
Find a good looking suit keeping in mind your budget. Not everyone can afford a Tom Ford, but various sites offer designer inspired pantsuits that too in a budget.
4. Stylish Sonam Kapoor Ahuja
The Bollywood fashionista Sonam Kapoor Ahuja always leaves us in awe with her fashion choices. She instantly manages to make all heads turn whenever she steps out. Sonam Kapoor in a pantsuit is not something new, but every time she grabs eyeballs by sporting this seasons hottest trend. Here are some of her awe-inspiring look.
Recreate Sonam's Look:
Bring more to the outfit with a belted blazer jacket for an hourglass silhouette.
Tips for finding your perfect Pantsuit:
Visit a seamstress and get your suit altered according to your measurements. Get it tweaked till you have a perfectly fitted suit.
5. Kalki Koechlin Breaking the Taboo
From a saree to a pantsuit, Kalki Koechlin can carry everything with flair. She is a true fashion maverick who turned all heads when she ditched traditional outfit for a monochrome pantsuit by Nikhil Thampi.
Kalki's eclectic taste in a fashion never ceases to amaze us. She paired a white short-sleeved jacket with a pair of flared pants. Her look got complete by cinching the coat with a slim black belt.
Recreate Kalki's Look:
Embrace two hottest trends at once by defining your waist with a belt either layered over your blazer or under your blazer.
Tips for finding your perfect Pantsuit:
Creativity is the key to get a breathtaking look. In the end, it does not matter whether you are wearing a million-dollar suit or a low budget one if it isn't styled well. Get creative and design your suit with accessories and find the perfect footwear to complete the look.
Some other Bollywood celebrities flaunting the pantsuit look:
Glam Up while you Suit Up!
https://www.instagram.com/p/By5wtYPA5Kq/?utm_source=ig_web_copy_link
Heart Emoji for Alia's Pantsuit Look
Borrowed from the Boys!
https://www.instagram.com/p/BwbdlpPApmO/?utm_source=ig_web_copy_link
So, you still think women can't rock pantsuit? Comment below your thoughts about it.
We hope that you like these tips and find your perfect pantsuit for this summer 2019.
For more Bollywood inspired looks, click on the link below:
Download the Marsplay App for fashion and styling inspiration.