Bollywood celebs are well known for their perfect and well-maintained bodies and their gym looks. The secret to this is not just a healthy and nutritious diet but also hours and hours of regular workouts.
The constant presence of the paparazzi has made it prime for all celebrities to look perfect at all times and at places, be it at an airport or a gym.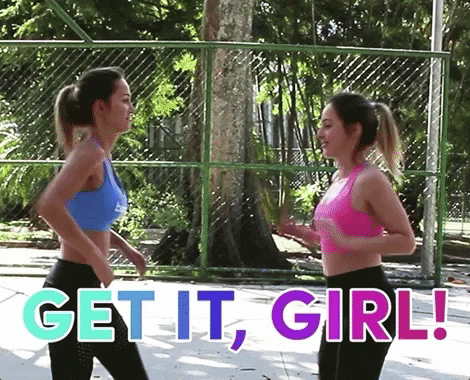 Why is it important to wear nice or branded gym wear?
The gym clothes demand high quality, comfort and no sacrifice on style. Also, with the growth of the digital era, everyone wants to be fit and have great gym looks to flaunt on their social media platforms. According to the research conducted by consumer market firm NPD, the sales of activewear and athleisure wear are booming. The active sports category is the fastest- growing segment in the market.
To help you guys with your gym looks, we have some style tips to look just like your favorite celebrities. So that your gym looks don't get boring and give you more zeal and determination to work out.
Get Up Dress Up and Workout!
1. Kareena Kapoor Khan – you can't ignore those one-liners
We cannot talk about gym looks and not talk about Kareena Kapoor Khan. Bebo's gym looks are one of the best and ace the charts in the industry. She is often seen sporting a graphic racer back tee along with loose and stretchy track pants.
Her racerbacks even have cool one-liners and quotes on them like "Aloha Sunday", "No bad days" and "Ok, but first coffee" to pump up the mood to workout.
Here are a few pictures of The Begum Of Pataudi in her gym wear:
https://www.instagram.com/p/BmLQprSHEzC/?igshid=grs44o1of5xr
Recreate Bebo's look: Her gym looks are popular because of their chic and casual look. To get a casual look like Bebo put on a racerback or a tank top with a pair of track pants. You can also wear tights instead of track pants and flaunt your figure.
Styling Tip: Put on a pair of mirror sunglasses along with your gym wear and increase the glam quotient.
2. Kangna Ranaut looks workout ready in those shorts
Queen of Bollywood Kangna Ranaut has the capability to look effortlessly glam even in her workout wear. She is often seen wearing a slogan tee along with a pair of shorts to the gym.
Recreate Kangana's Look: Kangana's gym style is all about ease and comfort. To recreate her look, put on a pair of shorts with a basic crop t-shirt and your favorite pair of trainers.
Styling Tip: If you are not comfortable wearing shorts, replace it with a pair of tights or track pants.
3. Deepika Padukone – be a trendsetter
Deepika Padukone is the brand ambassador for Nike and is frequently seen wearing the brand. She is also featured in a brand video by Nike which showcases girl power and focusses on women-centric sports in India.
Deepika excels in her gym look and flaunts her body by wearing a sports bra along with tights (sometimes, 3/4th) and funky shoes.
https://www.instagram.com/p/Byh7Y5mgEUD/?igshid=1nfdhnwa3zn1
Recreate Deepika's Look: Deepika's look is all about style and comfort. To recreate her look wear a sports bra or a tight fitted crop top with a pair of tights or 3/4th tights. If you are not comfortable wearing a sports bra, you can wear a wind shutter or a sleeveless jacket, and you are good to hit that treadmill.
4. Katrina Kaif – flaunt those abs
Do you have the poster of Katrina Kaif in her gym look inside your room? If not, get it, girl!
B-town's fitness enthusiast Katrina Kaif is known for her soft and delicate style. This tinsel town's leading lady has the sexiest abs like no one else. She is seen flaunting these abs not just on the big screens but also in her gym looks.
Katrina Kaif s mostly seen wearing a sports bra along with tights to the gym. On some occasions, she is also seen wearing a racer back or a tank top on top of the sports bra, along with a pair of tights.
Recreate Katrina's look: Katrina mostly sticks to just blacks and whites for her gym apparel. To recreate her look put on a basic cloured sports bra along with a pair of tights and a pair of matching colored sneakers.
Styling Tip: Another option to wear a sports bra and be all comfortable is by putting on a racer back or a tank top on it.
5. Jacqueline Fernandes – take your gym wear up a notch
Jacqueline Fernandes is well known for her candid nature and a great sense of style. This Sri Lankan beauty never ceases to amaze us with her gym looks. What we noticed that Jacqueline is always seen choosing brighter and pastel colors for her gym wear.
She is usually seen wearing a similar colored top and bottom gym wear (co-ord). Jacqueline even owns a line of activewear under the name of Justf, which deals with gym wear, athleisure wear and casual wear.
Recreate Jacqueline's Look: To recreate Jacqueline's look, find athleisure outfits instead of basic gym wear. This can be used for both, workout and an outing. Opt for co-ord sets rather than pairing two different pieces of clothing.
6. Alia Bhatt – add a pop of color to your boring outfit
Alia is not just popular for her films but is also well known for her gym outfits. Her workout wears are always cool and give out a happy vibe.
Recreate Alia's Look: She is usually seen pairing monochrome outfits and adds a pop of color to it by putting on a neon or a multi-colored jacket. To recreate Alia's look put on a pair of funky sneakers and tie a jacket around your waist to enhance the look and break the monotony.
7. Janhvi Kapoor – Comfort is the key
Bollywood's millennial Janhvi Kapoor has a fixed signature gym look. She is frequently seen sticking to mini shorts and a slogan t-shirt or a tank top.
Recreate Jahnvi's Look: Comfort is always the priority for this Dhadak star. To recreate Janhvi's look put on a simple slogan t-shirt and a pair of gym shorts to complete the look.
Styling Tip: To get a cool look like Janhvi, carry a pair of slides with you and replace the sneakers after the workout with them.
8. Sara Ali Khan – The Mix 'n' Match Gym Look
Another Bollywood millennial Sara Ali Khan is never behind her fitness schedule. She is also seen wearing a basic t-shirt and a pair of shorts. On some occasions, she has also been seen co-ordinating her top and bottom, by matching her sports bra with her skinny tights.
Recreate Sara's Look: To recreate Sara's look buy a matching co-ord set in classic black or white color or a bright, statement-making color. A co-ord set is the easiest way to put together an outfit for the gym without giving it much of a thought.
Styling Tip: Don't create a fashion blunder by pairing the wrong bag with your gym look.
Let us know in the comments section, which celebrity gym look matches your style.
For more information on athleisure wear, check out: Your guide to Athleisure Fashion Trend 2018