A print that is trending not only on runways but also is famous amongst our Bollywood celebrities is the Gingham or the check print. This print has a young and refreshing vibe to it and can be worn from head-to-toe. It can also be used to accentuate the look of an outfit and make it one of a kind.
One can spot the check trend from runways to the streets and is emerging as one of the hottest trends for the new season.
Usually, checks are seen on winter pieces of clothing Coats, blazers, trousers, and mufflers. But this season checks has been climbed the stairs, and we can see the glamorous vibes of these prints on our summer outfits like sheer maxi dresses to asymmetrical tops and skirts.
Check how some of our B-Town Ladies have styled the gingham print with elegance and flair.
Priyanka Chopra
Priyanka Chopra is seen wearing the Gingham print on multiple occasions. Recently she was seen wearing a pistachio-green gingham print dress during a family vacation. Her look was oozing charm and she looked gorgeous as she paired the dress with a pair of white block heels, a white handbag and a pair of black sunglasses.
The International star was seen wearing a similar print when she was in Mumbai for her engagement. She wore a co-ord gingham print set which consisted of a crop top and a maxi skirt.
Marsplayer Shubhi Bharal was also seen wearing a similar print in the form of a jumpsuit. She accessorized her outfit with a belt, some silver junk jewelry and a pair of sunglasses.
Deepika Padukone in a Ruffle Dress
During the promotions of her film, Chhapak Deepika Padukone picked out a sky blue and a white Gingham print ruffle dress. The dress was knotted at the chest with ruffles at its bottom. She aced this look by pairing a pair of blue pumps with the dress. She accessorized her look with a pair of statement earrings and did a half bun to complete the look.
Take inspiration from Marsplayer Mahi Bakshi who also wore a similar dress in lilac color. She styled her look with a pair of lilac pumps.
Shilpa Shetty Sporting the Gingham Print
Joining the bandwagon, Shilpa Shetty was also seen sporting the Gingham print trend. For her airport look, she wore a pair of checked pajamas and paired it with a Devil Wears Prada t-shirt along with a belt bag. She completed her look with a pair of oversized sunglasses.
Take styling inspiration from Marsplayer Rachel DCruz, who is seen pairing her check pants with a turtle neck and an olive green blazer. She completed her look with white heels.
Priyanka Chopra in the Evergreen Gingham Overcoat
As we mentioned above, Priyanka Chopra is a huge fan of this print and wears it religiously. She created a monochrome blue look, as she paired a blue check overcoat along with a blue shirt and blue pants. She perfected her look by wearing a pair of black boots.
Marsplay Super Blogger Debby also styled her Mustard Overcoat and created a glamorous look. Take inspiration from her and style your overcoat to create a glam look.
Deepika Padukone Highlighted her look with a Check Muffler
You can also use the Gingham print to accentuate your outfit. It is not necessary to wear a complete Gingham Print outfit. You can use accessories such as mufflers, boots or handbags.
Deepika Padukone wore a gingham print muffler along with a white sweater and classic blue jeans. She completed her look with oversized leopard print sunglasses.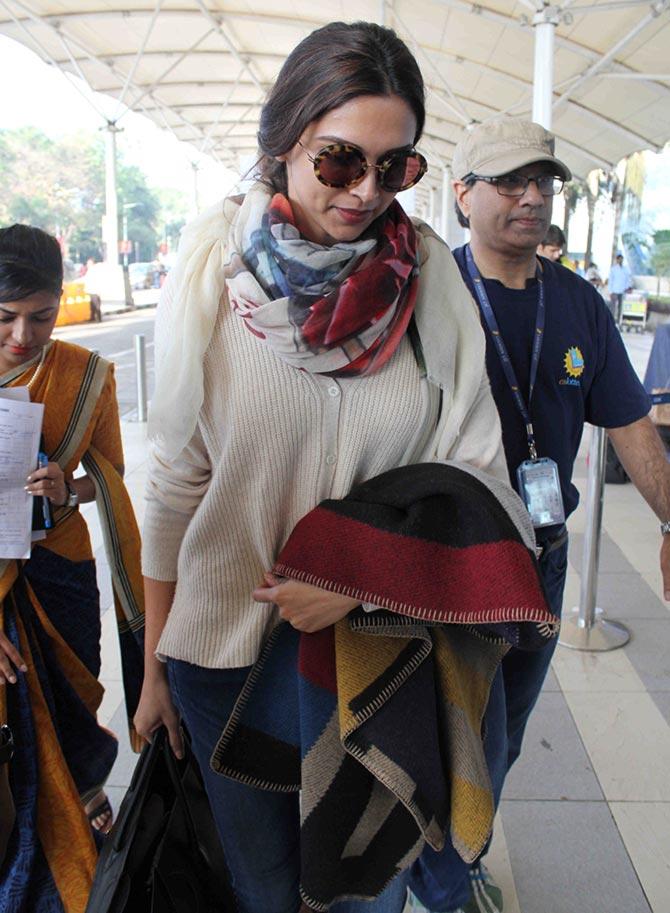 Take inspiration from Marsplayer Vartika and style your mufflers and keep winter chills at bay.
Let us know your thoughts about this trend and how would you style it.
Also, check out:
A Complete Guide on How to Wear All-White Outfits
6 Tinsel Town Divas Show Us How to Wear Ruffle Saree This Season