The holidays are here and that means it's time to take chances with fashion and makeup! With 2019 ending, and parties round the corner, you all must be worried for how to pull that perfect makeup that goes best with your outfit. You can't waste studded heels or a beaded dress with boring everyday makeup ideas… you gotta step it up!
It is really difficult to decide whether to keep it minimalist or add glimmer to your look.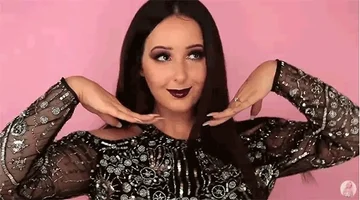 For that, we have some awesome hacks to help you keep the perfect balance between the two so that you don't miss the New Year's feel of your makeup. Get ready for taking notes for spellbinding makeup ideas ladies!
Also, check out our recent blog on Christmas Party Outfit Ideas to slay that chic Christmassy look this season!
 Dramatic Smokey Eye 
The smokey eye look is a favourite among the festive season, because it goes with every party outfit you could think of. Apply black eyeliner at the lashline and smudge it out with a cotton. Use an eye shadow brush to blend the liner and leave some space between the darker shade and the brow bone. We all believe that smokey eye makeup is a game changer and you don't even need much of makeup to ace this look. 
Glitter cut crease
You should start by applying base on your eyes and brown eyeshadow to give it a depth effect and then add your cute winged liner,making sure the tip reaches the brown shadows. Then taking a glitter liner you want to apply in the crease of your eye. This should be underneath the brown shades. It will give you that perfect cut crease look.
The one tip we can give is you should practice a lot! Work on the cut crease first, and then clean it up afterwards if necessary. It shows off and widens your eyes by creating the illusion of added depth. Whether your eyes are small or large, a cut crease will open them up for a beautiful, eyed look. It doesn't matter how much time and effort this look takes but it's worth a try ladies! 
 Gold eyes and nude lips
It's one of our favorite looks specially for a New Year's party. We love how this look makes you look flawless with minimum effort. Because this is all we want- less effort with maximum results! To get the right nude lips, you should first start by making sure you have good condition lips.Use a lip liner first to "overline" them slightly, this is what gives them that fuller appearance. Once you've added your nude lip shade, dab a touch of highlighter to the centre of your bottom lip to make it light-reflecting and appear bigger.
For the eyes, start with your base and then apply the main star that is gold eyeshadow, and add a dark brown shade to the outer corner of the eye and apply a lot of gold eyeshadow, conceal the fallout areas and apply a winged eyeliner, also apply gold eye shadow to the inner corners to make your eyes pop. And you are all set to rock at the New year's bash! 
 Matte Plum lips
If you want to wear darker shades of lipstick,  you should keep them for the evening, or big events or parties.If you don't know what shade of dark lipstick to wear for your light-eyes, a burgundy with a hint of pink would be just right. Dark coloured lipsticks add a lot of glamour in the outfit. We bet this look will make you stand out of the crowd. 
Rihanna's Glitter is Everything
A sparkling highlighter that looks amazing on lips and lids. Rihanna played with glitter in this look by adding glitter to her eyes and also she chose a neon pink lipstick and added glitter over that to make it a classic Rihanna look. Love how different and unique this look is. You can definitely try this makeup for New year's eve. This makeup look is perfect for a night out party.

No makeup- makeup Look
This is a very common look nowadays wherein people play with highlighter for a glowing skin. To start off, prep your skin and apply primer and instead of reaching for a foundation or powder, use a highlighter on your cheeks, nose and brow bone to give that glow. Add an eyeliner and a little eyeshadow and complete the look by applying a lot of mascara. Lastly, go for a nude lip and your no makeup-makeup look is ready. You can totally rock this natural look for a New year's party. Highlighter is the hero in this look.
Make this Chritmas and New Year flawless with these make up ideas. Now, no more worries this time for the parties coming your way.
Wishing you all Merry Christmas and a Happy New Year!! 🙂
Also, check out:
Top 6 Places for Christmas Celebrations in Delhi
Glam Up with Marsplay's Party Outfit Ideas for Women
Have you followed us on Instagram? Also, if you want to join our largest community of fashion bloggers, click here.
Download the Marsplay App and upload your fashionable images to win exciting cash prizes and more.