Everyone will agree that life would look better without dark circles. You wouldn't have to go through people saying, "You look tired" or " Did you not sleep properly", etc, etc. You'll also save a lot of time because you won't have to spend hours on makeup trying to conceal your dark circles. But with the right products and under-eye creams, you can easily get rid of dark circles.
Dark circles take place because the skin under and around the eye is thinner than the rest of your face. This is the reason why it is affected the most by harmful UV rays, pollution, irregular sleep patterns, and aging. Therefore, to avoid thinning and darkening of your under-eye skin, it is very important to take care of your under eyes.
Continue reading to get a detailed review of the top 5 under eye creams to get rid of dark circles and puffiness that are pocket-friendly.
Biotique Bio Seaweed Revitalizing Anti-Fatigue Eye Gel
This ayurvedic under-eye cream by Biotique is a miracle packed in a box. The eye cream is enriched with the extracts of seaweed. It works towards relieving and refreshing tired under-eye skin. This eye cream also does wonders in reducing inflammation, puffiness and dark circles.
Price: Rs. 129/-
Himalaya Herbals Under Eye Cream
This product by Himalaya Herbals is enriched with extracts of strawberry flower, wheat germ, and neem leaves. This product not only lightens the dark circles but also moisturizes and nourishes the under-eye skin. The neem extracts present in the product act as a great anti-oxidant and brighten and remove darkness from under the eye.
Price: Rs. 143/-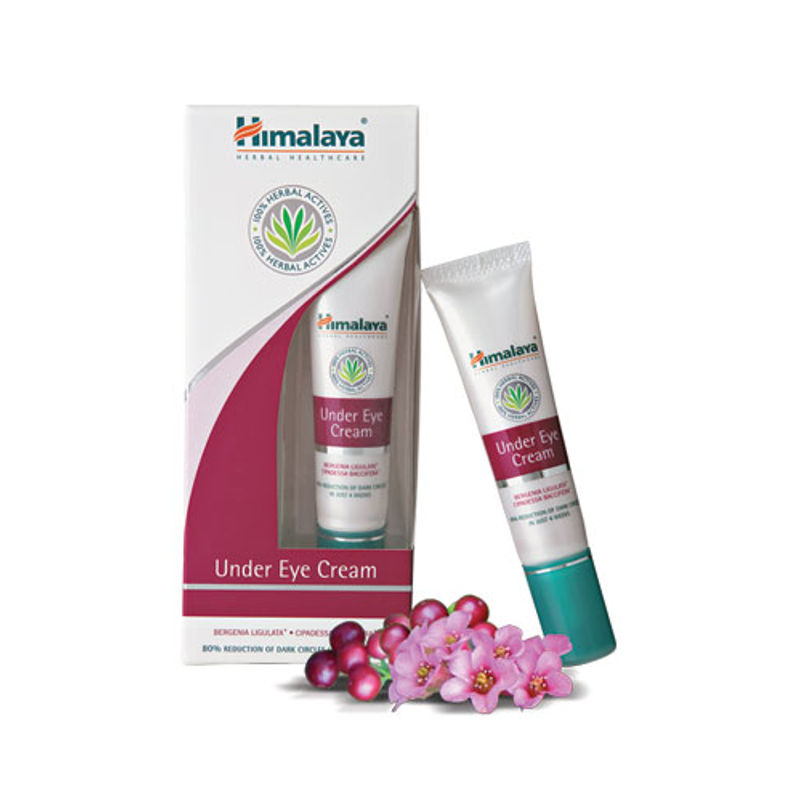 Aroma Magic – Under Eye Gel Cream For Glowing Skin
The Aroma Magic gel is formulated with natural active ingredients like rose, flaxseed, lemon, green tea, chamomile and fennel extracts which are suitable for all skin types. The skin reduces dark circles along with repairing damaged tissues and lightning the skin.
Price: Rs. 137/-
Lotus Herbals Nutraeye Rejuvenating And Correcting Eye Gel
The Lotus Herbals Nutraeye Rejuvenating And Correcting Eye Gel comprises hydrolyzed wheat protein. It wheat protein helps in removing fine lines and dark circles and rejuvenates the skin.
Price: Rs. 311/-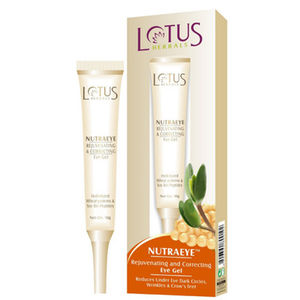 L'Oreal Paris Revitalift Laser X3 Eye Cream
This cream by Loreal Paris is a favorite amongst people. Though this cream is a bit on the higher side, it gives you the benefits of laser therapy. The product acts as a Holy grail product for a person who has puffy under eyes and works well with all ages.
Price: Rs. 776/-

Some other under eye creams you can choose from are:
| | |
| --- | --- |
| Product Name | Price (in Rupees) |
| Khadi Under Eye Gel | 206 |
| Forest Essentials Intensive Under Eye Cream | 2625 |
| The Body Shop Vitamin E Eyes Cube | 995 |
| Clinique All About Eyes Rich | 3400 |
| Garnier Skin Naturals Light Complete Eye Roll-On | 151 |
Say goodbye to dark circles, puffy eyes and fine lines, with these under eye creams by your side.
Also, check out:
5 Must-Have Anti-Pollution Skincare Products
5 Make Up Essential in Every Wonder Women's Bag
Have you followed us on Instagram? Also, if you want to join our largest community of fashion bloggers, click here.
Download the Marsplay App and upload your fashionable images to win exciting cash prizes and more.