Are you bored of wearing a boring outfit to work every day? It is time to finally change that. It is quite evident that fashion is present in all our day to day aspects of life. There is a common saying, "Dress for the job you want, not the one that you have." Finally, it is time to infuse fashion in our workwear wardrobes. We've curated a collection of chic work outfit ideas you can opt for your day to day office.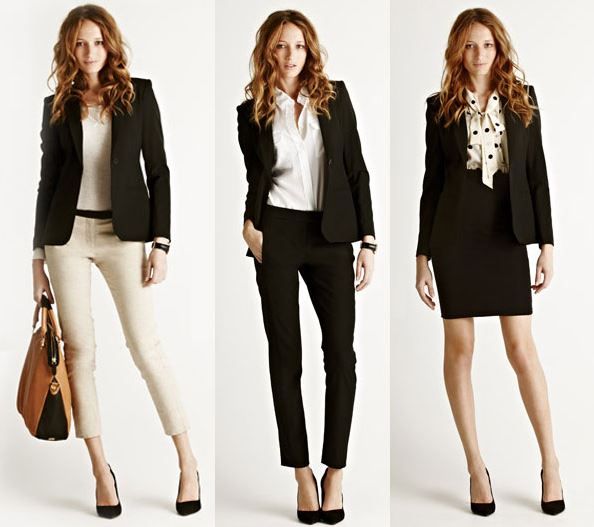 With so many e-commerce sites opening every day, it has become very easy and convenient to select the one that suits you the most. We've selected the outfits that reflect the personalities of an individual and also create a long-lasting impression. All you need to do is to select the one that matches your vibe and personality.
Maybe Monday won't feel so bad in these clothes?
What to Wear to Work?
Here are some work outfit ideas for you to choose from!
Power suits are a Must:
The power suit is back with a bang and in full force for this season. A pantsuit is a workwear essential. Put on a pantsuit along with a shirt that complements its color. Complete the look by minimal makeup, accessories and a pair of nude heels. You can also opt for vibrant colored pantsuits for your formal meetings.
*Tip: For a more formal look you can also add a tie to enhance the look.
Shorts and Formal?
Who thought that shorts can be worn to offices and formal meetings. But here we are with high waisted shorts that are trending this year. Flattering every body type, these high waisted shorts are perfect for any formal meetings. Put on a black high waisted shorts and wear it with a formal shirt. Complete the look with a pair of block heels and minimal makeup and sleek hairstyle. You can also add a blazer to take the look up a notch.
Beige Pants to the Rescue
One can never go wrong with the color as it is one of the most sophisticated colors and a perfect pick for the office wear. All you need to do is to add a semi-formal white shirt and pair it with beige colored flared pants. Accessorize the outfit with a Dark brown colored belt and pointed heels. You can also add a black colored tote bag to add color to the outfit. For a semi-formal look pair a turtle neck top with your beige pants.
Give a Twist to that Basic Pantsuit:
A pantsuit is an innovative piece of clothing. There are various ways to wear a pantsuit. The best way to wear one and look uber-cool is by adding a turtle neck underneath the blazer. Replace your basic pants with ankle-length fitted pants. Complete the look with your favorite pair of Oxford shoes.
Experiments with Pleats
Remember when pleats were a huge hit in the '70s? Well, pleats are back and are a good choice for semi-formal wear. It is time to make your creative juices flow. With a pleated skirt, you can experiment with various bold and vibrant colors.
This outfit is for that confident Boss Lady who isn't afraid to pull anything. All you need to do is to get yourself a stylish pleated skirt in a basic blue or black color. Then pair it with a vibrant colored top and complete the look with minimal accessories and nude heels. You can also reverse the look and pair a vibrant skirt with a basic colored shirt.
Take your Basic Pant-Shirt Up a Notch
Are you a fan of Minimalism? if yes, then we've found the perfect combination for you. It is something that you wear almost everyday to office. It may be a cliche but you can take it up a notch if you style it perfectly. Buy a high-waisted pair of formal ankle-length pants. Pair it with a Victorian Style Ruffled Collar shirt (Poet Shirt). Amp up the look with a rose gold chain watch and a pair of sophisticated pointed heels.
Infuse Monochrome in Your Work Wardrobe
Monochrome outfits have often been ignored in favor of colorful prints or stylish checkered patterns, but once you realize that this is the chicest and easiest to dress, you will never let this trend go. With this trend gaining popularity in recent years, many celebs from Priyanka Chopra to Blake Lively have been seen to love this trend. You can incorporate the monochrome trend in your work wardrobe.
Monochrome is an easy look to create, making it almost impossible to get wrong. It is the best and the easiest pick for your work outfit. The trick to wear monochrome outfits is to find the suitable tints and hues of the color that blends in perfectly with the tone of your skin. It not only saves you from all the hassle but also saves your time in deciding the outfit.
Wear a Collared Shirt Under your Outfits
The easiest work outfit idea to make your outfit look formal is by adding a collared shirt underneath your outfit. You can convert all your outfits to formal or semi-formal wear with this method. If you are wearing a slip dress or a normal dress, you can wear a shirt underneath.
You can also apply this method by wearing a shirt under a cardigan for a sophisticated and kept look.
Dress it Up with a Pencil Skirt
Pencil Skirt is a perfect example of formal wear. All you need to do is to pair your skirt with a solid coloured or a pinstriped shirt and nude or black pumps. Ace your dressing game like a boss. Another look to try with a pencil skirt is to pair it with a turtleneck T-Shirt. Complete the look by tying your hair in a sleek ponytail and minimal makeup.
Get interview-ready with these ideas. Check Out:
Everyone's Wearing Checks!
There's one print that is loved by all and can never go out of fashion, are checks. The check trend is proving to be dominating other trends as one of the hottest trends for the new season.
Check, tartan and gingham prints are very common amongst all office goers. Make this boring trend a style statement by styling it the right way. Infuse these prints in your work wardrobe by wearing checkered pants of dresses to your office.
Try these Work Outfit Ideas and look like a BOSS LADY! Also, let us know in the comments section which look matches your personality and brings out your confidence.
Also, check out:
How to be Fashionable in 10 Simple